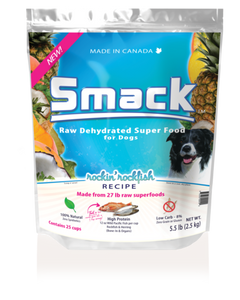 Rockin' Rockfish
Smack Pet Food
Regular price $129.99 Sale
A lip-smacking food for dogs that can be fed like a kibble or with added water.
Rockfish & Herring (Wild Pacific)
Cold Deep Water Fish
Sustainable
Excellent Sources of Omega-3
12 oz Fish Per Cup
100% Organic Ingredients
8% Carbohydrates
0.8% Sugar
Absolutely Zero Synthetics
Absolutely Zero Grain, Gluten, Potato, Wheat, or Soy
Per cup, it contains 12 oz wild pacific rockfish and wild pacific herring, loaded with Omega-3 fatty acids. These cold deepwater fish are a hypoallergenic, protein, free of nasty contaminants.

The wild pacific fish is whole, bone-in, with organs as a holistic raw food for dogs naturally includes and is superfine ground prior to dehydration for excellent nutrient absorption.
Rockin' Rockfish is 100% wild and organic!

Contains high amounts of functional superfood ingredients like wild rockfish and herring, organic pumpkin, organic coconut, organic mango, and more, known to have the following benefits:
Fight Cancer
Help Muscles Recover
Coat Health & Shine
Joint Strength
Improve Protein Digestion
Blood Sugar Regulation
Reduce Inflammation
Improve Insulin Sensitivity
Reduce Gastrointestinal Disorders
Improve Vitamin & Mineral Absorption
Ingredients:  Wild Rockfish, Wild Herring, Pumpkin*, Coconut Flour*, Mango*, Spinach*, Pineapple*, Parsley*, Turmeric*, Mixed Tocopherols*.
*Indicates Certified Organic